A Jeep Wrangler dressed in an Italian suit is the Militem Ferox Adventure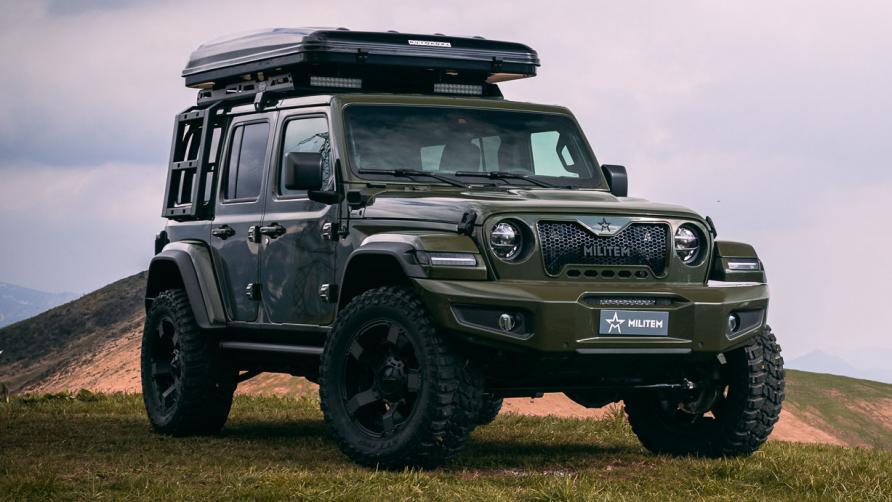 A Jeep Wrangler dressed in an Italian suit is the Militem Ferox Adventure
Militem describes the modified Jeep Wrangler it names the "Ferox Adventure" as "the ideal mix of American DNA and beautiful Italian design," and prices roughly £70,000 before tax.
That's a lot of money for a Jeep, so what do you get for it?
All Feroxes have 35-inch mud tyres, part-denim upholstery, ambient lighting, a carbon-fibre grille, new head- and taillights, upgraded suspension, and a dual-mode exhaust, among other things.
The Adventure adds "scratch resistant" bodywork, a roof rack, a snorkel, and a plethora of twinkling LEDs.
Engines, on the other hand, appear to have escaped Militem's notice.
The 2.0-liter four-cylinder or 3.6-liter V6 engines in the Wrangler are both available with an eight-speed automatic transmission.
Neither is quick, but they're both strong and torquey enough for off-roading.
Militem claims to have three dealers in Italy and one in Monaco, with more set to open soon.
After the Jeep Renegade-based Hero and the RAM 1500-based Magnum, the Ferox is the company's third vehicle.

Thoughts?
Modified one-off Jeep Wrangler 'YJL'