Hennessey is working on a 750 horsepower Ford Bronco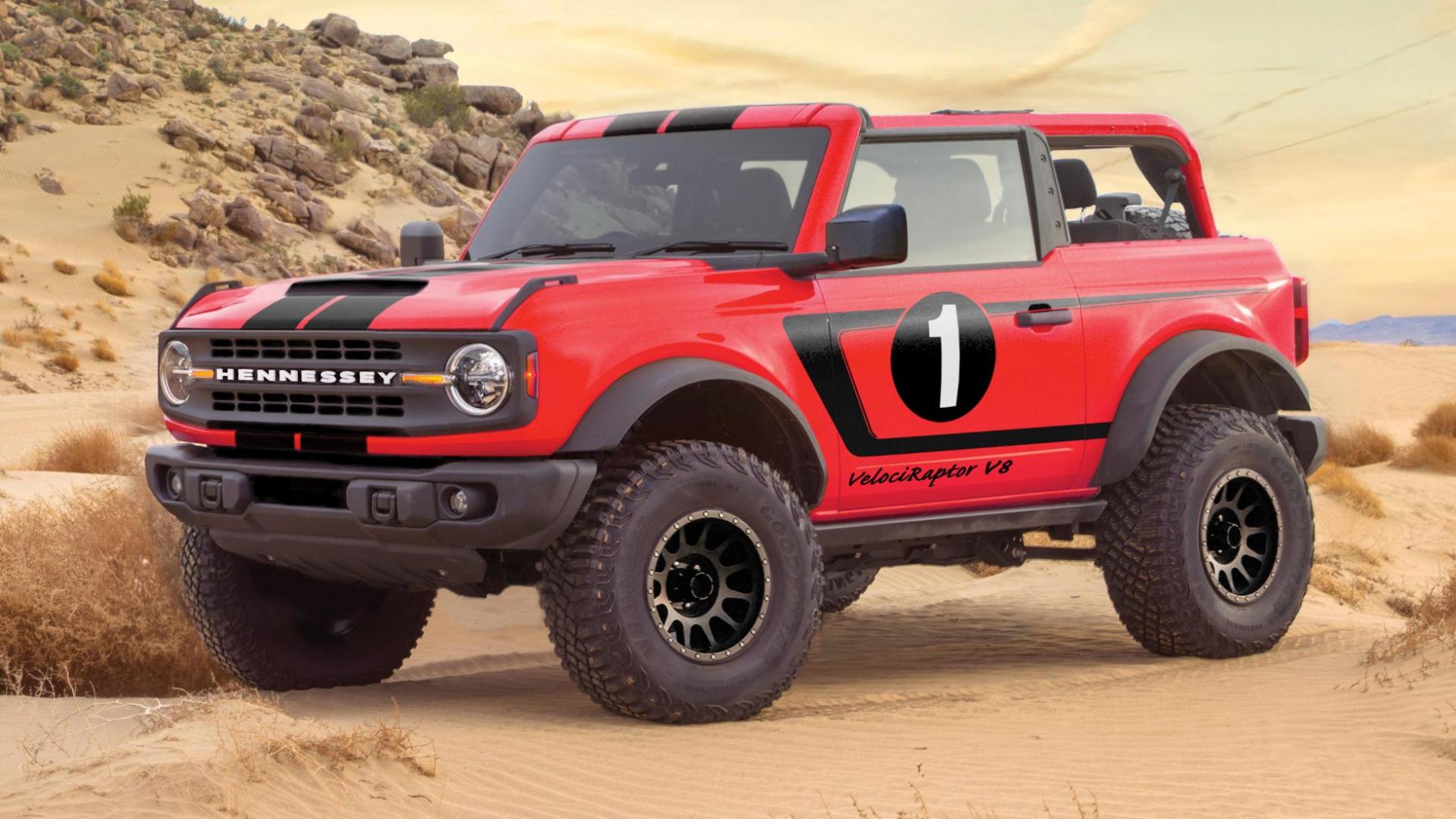 Hennessey is working on a 750 horsepower Ford Bronco
Hennessey Performance Engineering has declared its plans to equip Ford's resurrected off-roader with a large V8 engine. The automobile is appropriately named the 'VelociRaptor V8 Bronco.
Hennessey is working on a 750 horsepower Ford Bronco
So in comes Ford's 5.0-liter V8, which has been improved with a 3.0-litre supercharger, an air-to-water intercooler, updated injectors, an updated fuel system, and a stainless steel exhaust system.
The gleaming new V8 is coupled to a 10-speed automatic transmission from Ford.
We're shocked Hennessey didn't throw in a couple more gears.
Isn't it true that more is better?

This customised Bronco produces 750bhp, which is a significant increase over the factory's 310bhp Ecoboost V6 engine, and a 0-60mph speed of 4.5 seconds.
A new bonnet with that all-important scoop, new aluminium wheels, a plethora of emblems, a special livery, a new grille, and even embroided seats contribute to the car's new aesthetic brilliance.
Underneath, HPE will instal enhanced off-road suspension and tyres, as well as a new ECU, a three-year/36,000-mile HPE warranty, and a number plate indicating which of the 24 cars is yours.

Only 24 of these 'VelociRaptor V8 Bronco' automobiles will be constructed, and each will cost $225,000 plus vehicle delivery fees.
Yes, it's pricey, but don't forget the words "V8" and "750 horsepowers."

HPE CEO John Hennessey states, "I wanted to make the ideal Ford Bronco for myself and our customers."
"Since the launch of the Ford GT, the 2021 Bronco has been one of the most sought anticipated automobiles.

He went on to say, "We look forward to pushing the new Bronco to the next level and beyond."
Video: 2021 750 HP Hennessey Velociraptor Bronco announced!!!