Jay Leno'sJeep 6x6 built by Florida's apocalypse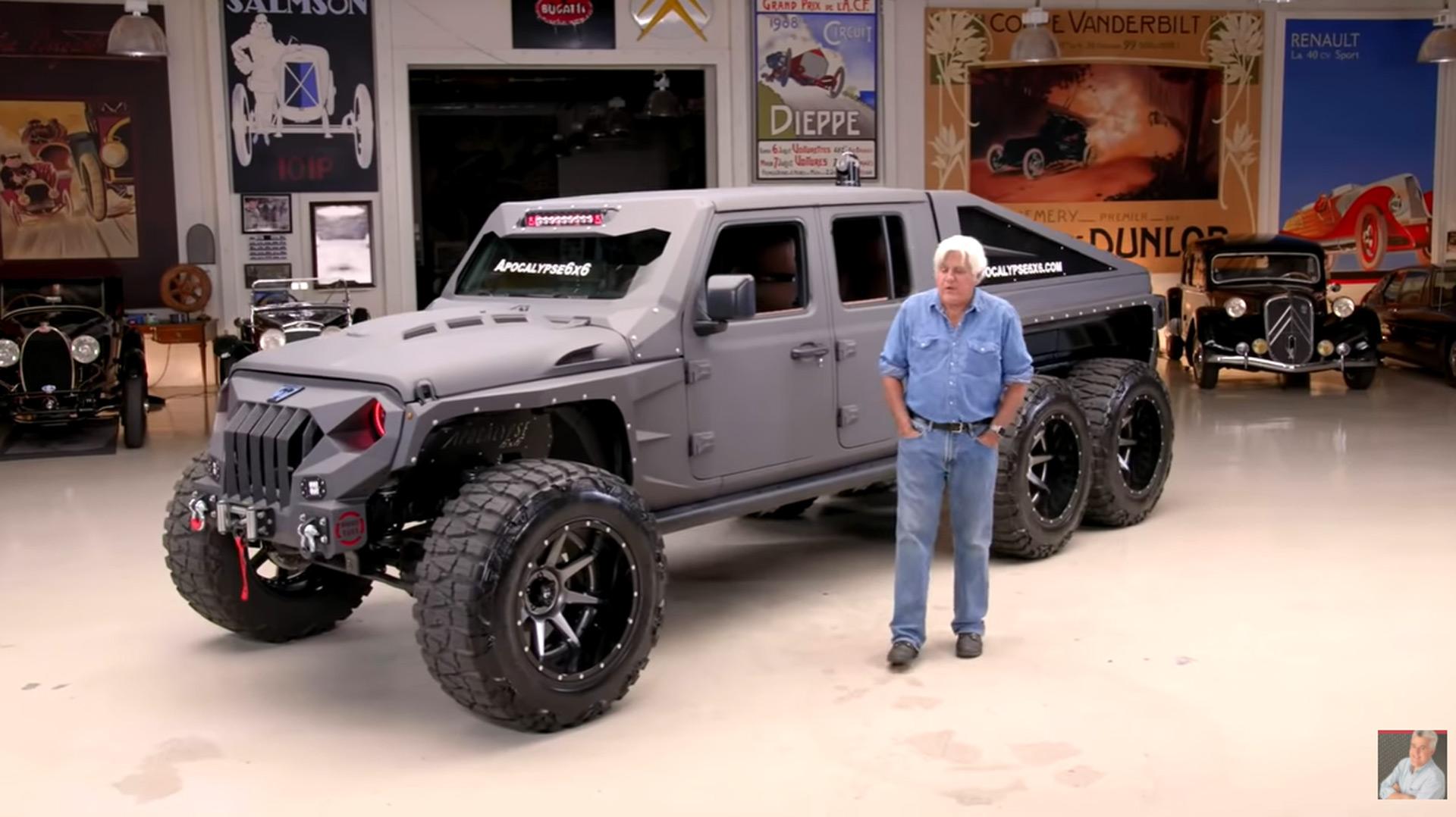 Jay Leno'sJeep 6x6 built by Florida's apocalypse
There appears to be no lack of firms producing 6x6 behemoths based on normal SUVs and pickup trucks, and Apocalypse Manufacturing of Fort Lauderdale, Florida, is one of the most successful.
This is the same business that produces the Ram 1500 TRX 6x6 known as the Warlord, as well as a 6x6 Jeep Gladiator.
The company's Gladiator 6x6 comes in three flavours, with the Hellfire, which was featured in the most recent episode of "Jay Leno's Garage," having the largest storage capacity.
The Tesla Cybertruck influenced the design of its bed, which includes a steel cover with an inclined top.
The car, understandably, dwarfs even a garage as large as Leno's.
That's partly because the car is equipped with the optional 40-inch wheels.
A thermal night vision camera, a leather-lined cabin, and a jet ski package are among the other possibilities.
Naturally, engine improvements are also available.
A twin-turbocharged diesel engine with 460 lb-ft of torque is standard.
A tuned LS3 6.2-liter V-8 with around 500 horsepower is available for the power-hungry.
The Hellcat 6.2-liter supercharged V-8, which produces a standard 707 horsepower, is at the top of the line.

Apocalypse has been doing exceptionally well, and not only in the United States.
According to owner Joseph Ghattas, 79 orders for his 6x6 cars have been placed, with many of them coming from clients from different areas of the world, particularly the Middle East.
With the diesel engine, the price starts at $150,000.
If you want the LS3, you'll have to spend $175,000 for it.
When you add in the Hellcat, you'll need at least