Monster truck Shelby Super Snake F-150
Monster truck Shelby Super Snake F-150
The price of the furious F-150 Super Snake has been announced by Shelby American Clive Sutton.
The Shelby Super Snake F-150
What a way to begin this memorable year—with a big, strong American truck, remarked Mr. Sutton.
Indeed. A monster, the Shelby. The Ford F-150 serves as the foundation for this vehicle, which is officially known as the "Shelby Super Snake F-150," and many, many more horses are added.
Thanks to Shelby's modification, the 5.0-liter V8 receives very strong supercharging, pushing output just north of 775 horsepower and mated to a 10-speed automatic transmission. A unique suspension arrangement with Fox shocks, 22-inch wheels, and exclusive Shelby bumpers and badges is available that is optimised for both on- and off-road driving.
Naturally, the interior is even more unique with tinted windows, racing pedals, two-tone seats offset against carbon fibre trim, and other modifications.
The ram-air induction vents on the bonnet or perhaps the dual stripes along the length of the F-150 may be the reason for the colour.
or because you're riding in a 775-bhp V8 monster truck.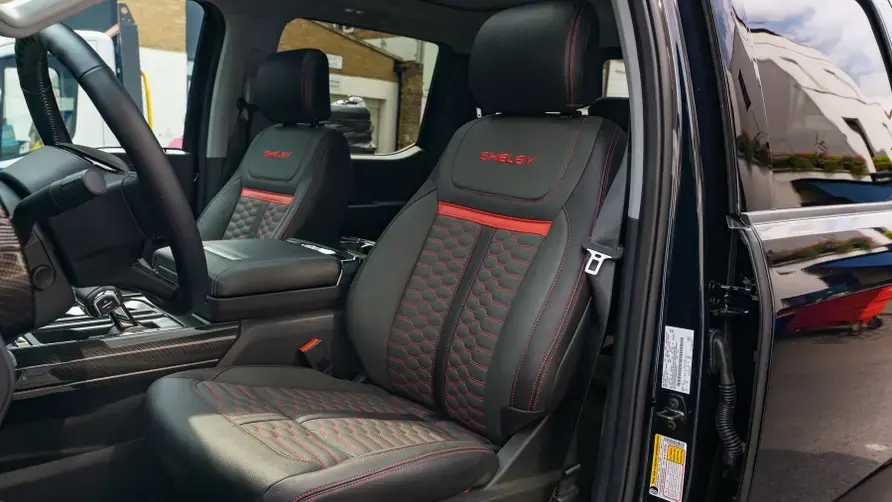 Sutton has you covered, so, should the mood strike. The UK will receive six of the 300 Shelby F-150s that are available globally, all via Sutton.
While the Shelby Super Snake double cab starts at £191,940 (for the "on-road version") or £189,540 (for the off-road vehicle), the single cab Shelby Super Snake Sport starts at £167,940 (with VAT). A three-year warranty is also included.
Related Video:
2020 Shelby F-150 Super Snake Review // The 770HP Truck We All Need