Modified Mercedes-AMG G63 pickup
Modified Mercedes-AMG G63 pickup
In Jeeps
You may have noticed that this Mercedes-AMG G63 is quite huge, it was built by Californian company Pit26 Motorsports.
Pit26 Motorsports Mercedes-AMG G63
The so-called G-Wagen experts start with a brand-new G63 (or G550), then slice the vehicle in half behind the back seats. Then a pickup bed is attached and the chassis is 20 inches longer. More OEM pieces are used for the back of the bed, and the regular rear glass is repositioned behind the back seats. Well, that does sound like a tonne of effort.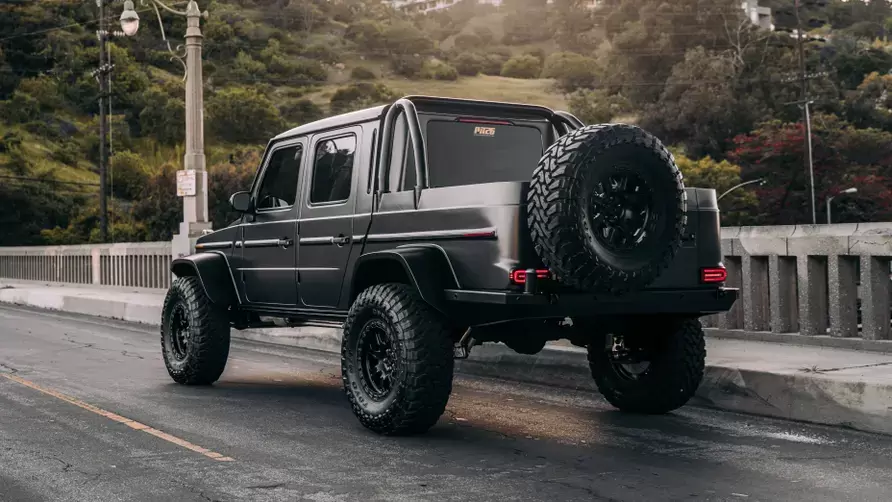 Nevertheless, there is still much more to come as Pit26 adds portal axles and enormous 38-inch Toyo tyres (with the option of 18- or 20-inch wheels) providing far higher ground clearance than the regular G.
A sophisticated suspension system is also present, with new upper and lower control arms, as well as Bilstein race grade shocks and coils. The G-Wagen Crew Cab from Pit26 is "designed for off-road adventuring, desert mobbing, and dune running," according to Pit26.
Somewhat surprisingly, the interior and engine are kept as stock as possible to make this monster-G feel as conventional as possible (although a 577bhp 4.0-litre bi-turbo V8 is probably already plenty).
Although there is a brake upgrade available, this initial model also appears to include a bespoke winch bumper, a modified rear bumper with a full-size spare tyre, a custom exhaust, and of course those enormous new wheel arches.
The creation starts with a significant $385,000 in price.
Related Video:
Mercedes-AMG G 63 Pickup | By PIT26