This Honda S2000 Appears To Have Been To The Gym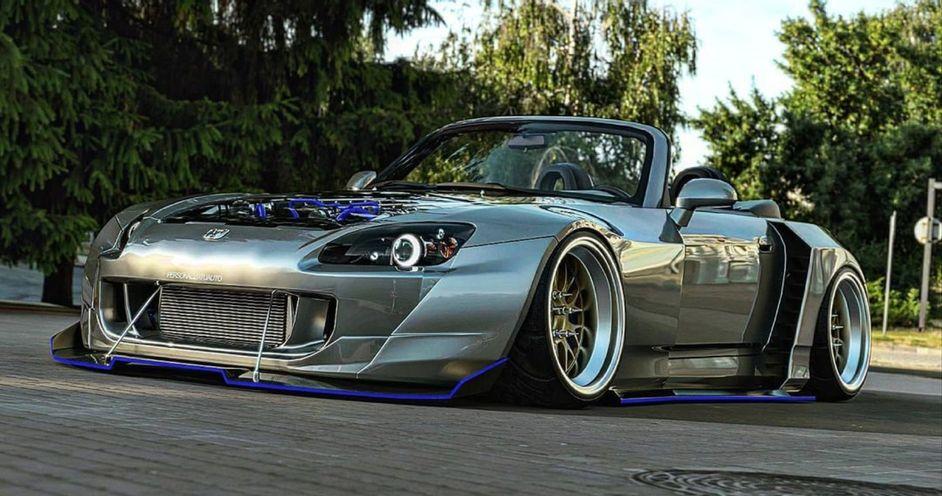 This Honda S2000 Appears To Have Been To The Gym
With its elegant aesthetics and excellent driving abilities, the Honda S2000 is widely recognised as one of the Japanese brand's best and greatest cars.
Emmanuel Brito, a digital automobile renderer, has used that as a starting point and created this amazing Honda S2000 render.
The S2000 appears to have gone to the gym, resulting in a radical and seemingly unhinged S2000 that is a long cry from the factory car.
The S2000 now has an amazing wide body package thanks to the extreme changes.
The attention to detail on this S2000 begins at the front.
Looking at the car from the front, we can observe that it has a considerably broader aspect, with enormous wheel arches covering much larger tyres, which makes it appear extremely wicked when viewed directly.
With the addition of a front-splitter, that wicked appearance is accentuated even further.
You may argue that the splitter is excessively large for a vehicle of this size.
The S2000's hood is no longer there in the front, giving us a clear view of the VTEC powerplant that drives this sports vehicle.
When you look at the side of the S2000, you'll see that it's been drastically changed as well.
On the underside, we can see a radical new floor, which is accentuated by the blue border around its edge.
Above that, the car's body has been strengthened, with thicker body panels on either side of the doors.
The rear panels are attached to the rear wheel arches and feature openings in the front to channel air around the bigger wheels.
While the alterations to the front and sides are significant, the changes to the rear may be the most dramatic.
When we look at the back of the S2000, we can notice an outstanding rear exhaust system.
Brito designed a quad-exhaust system with four exhaust pipes placed in a square pattern.
He had to make a significant shift in order to accomplish this radical change.
The S2000's back bumper has been cut in half, which may not be to everyone's taste, but you can't deny how dramatic the vehicle now looks.
The sheer width and size of those new rear tyres is certainly noticeable, and this has to be one of the most drastic S2000 changes we've ever seen.

Instagram is the source of this information.