69 Camaro with 650bhp and a carbon fibre body
69 Camaro with 650bhp and a carbon fibre body
In Muscle Cars
The new design by Finale Speed combines modern materials with traditional styling.
1969 Chevy Camaro restomod
The highlight of this restoration is the use of exposed-weave carbon fibre in the body of this lovely 1969 Chevy Camaro restomod by Oklahoma tuner Finale Speed.
A GM LT4 crate V8 along with a Wegner pulley system, GM fuel management set up, and a VaporWorx fuel pump are included in FS's work.
The upgraded Camaro produces 650bhp when combined with a stainless-steel exhaust, new battery, ignition, and electrical harness. Significantly more than the original 1969 Camaro produced.
Together with new front and rear subframes, bigger sway bars, and JRi coilovers, it is paired with a true six-speed manual gearbox, a limited slip differential, and new axles. Although there isn't much left of the original Chevrolet, the 18-inch Forgeline three-piece wheels that conceal Wilwood callipers and cross-drilled/vented discs at least give the car a Camaro-like appearance.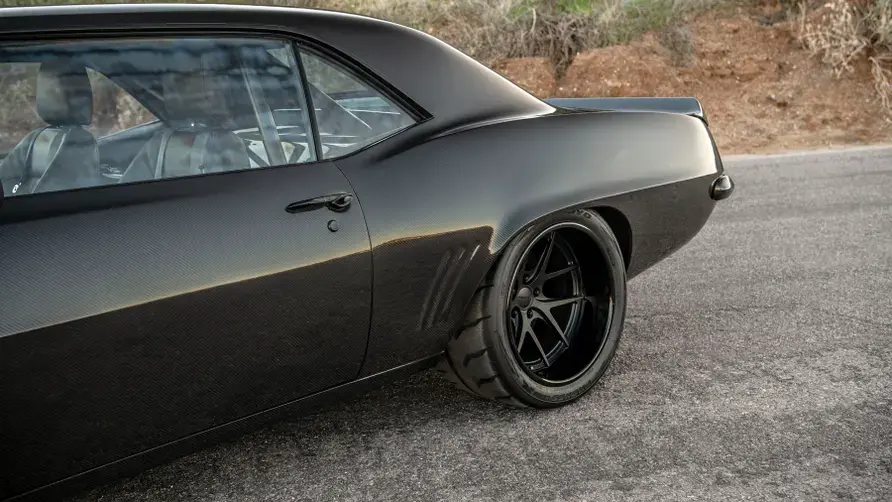 The body is made entirely of carbon fibre and was designed to "OE requirements" utilising prepreg autoclave-cured material for both strength and lightweight.
The weaving is then highlighted by a transparent finish, which is complemented with LED lighting, flush-mounted glass, and billet hinges and handles.
You'll agree that the result is really beautiful.
Same scenario on the interior, which adds new front seats (and gets rid of the back ones), tonnes of Alcantara, a four-point rollbar, and an Alpine stereo with several speakers and a subwoofer. But just to hear the really strong V8, you'll probably turn that off.
Related Video:
Finale Speed Chevrolet Camaro 1969