A 325bhp V8 has been installed in a refurbished Chevy C10 pick-up
A 325bhp V8 has been installed in a refurbished Chevy C10 pick-up
A customised Chevrolet pickup truck allegedly created "for modern driving conditions" has been made public by a US tuner.
Chevy C10 V8 pick-up truck
You can't blame the execution, but I'm not sure how those low-profile tyres and slammed suspension will hold up against your medium-sized pothole.
The North Carolina-based company Retro Designs created the blacked-out 1984 Chevy C10 with the intention of creating something that could "enjoyably tackle anything in its path."
Due to Retro Designs' decision to equip its C10 with a large V8, it is undoubtedly capable of accelerating in an enjoyable manner.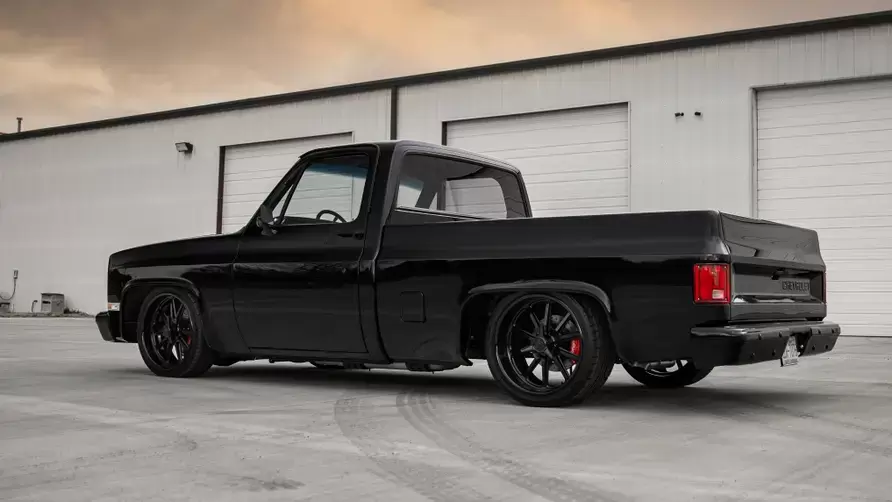 a powerful 325bhp LS1 V8 paired with a 4L65E transmission, new wiring, and improved Wilwood brakes.
Naturally, the outside has received a thorough cleaning and has been completed in the alluring "fierce black powder coat" you see here, while the interior is fairly spotless. Sure, there's leather, but there's also LED lighting, "time correct" accessories, and digital gauges. Also a big stereo.
From beginning to end, the entire process took more than eight months, and the company notes that their projects start at $180,000.
"The opportunity to upgrade and repair this model with the best in contemporary technology was such a tremendous experience," says RD CEO Daniel Valjevac. The C10 is one of the most well-known pickup trucks ever produced.
Related Video:
1968 Chevy C10 Custom Rest-Mod Pickup Truck 5.3L Vortec V8 - SOLD - 137062