Liberty Walk's widebody Ferrari F40
Liberty Walk's widebody Ferrari F40
In Super Cars
This is Liberty Walk's version of the Ferrari F40, an aggressive widebody merchant of stance.
Liberty Walk's version of the Ferrari F40
The "full body kit," which was just unveiled at the Tokyo Motor Salon, eliminates the pop-up lights and adds a new configuration. There is a brand-new bonnet with several vents and ducts. The original F40 lines by Pininfarina have also been enhanced with a new selection of diffusers, including those in the front, sides, and back, where a new rear wing is also present.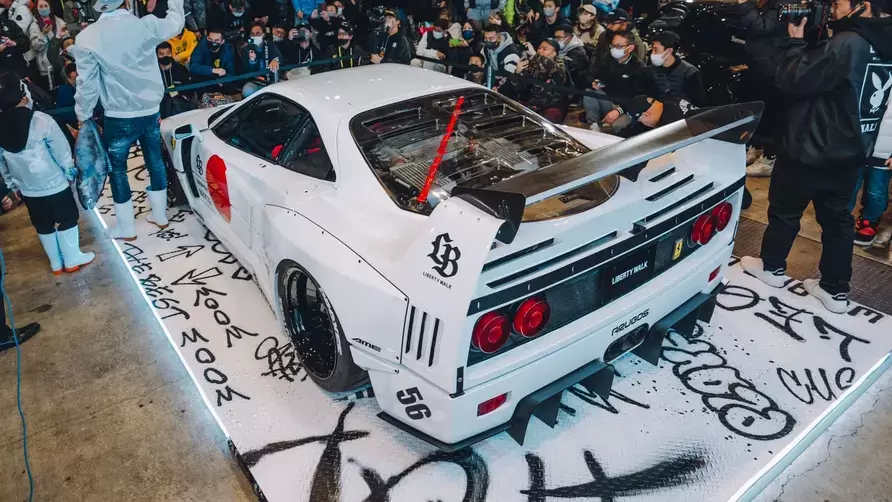 Naturally, there are also LW's distinctive bolted broad arches and suspension drop; in fact, they have been bashed so hard that they probably qualify for the Underground.
No information has been given on any performance improvements, so allow us to recite some numbers you are probably already familiar with: The F40's 2.9-liter twin-turbo V8 engine makes 478 horsepower and 426 lb-ft of torque. It was unimaginably quick for the time, reaching 62 mph from rest in 4.1 seconds when power was sent to the rear wheels. That would probably still feel like warp speed in today's world due to its minimalist interior and light weight (1,100kg!).
Related Video:
They Cut the F40! The CRAZY Liberty Walk F40 Widebody FULL TOUR…