$550k BMW M1 "AHG Studie" transformed into an M1 Procar
$550k BMW M1 "AHG Studie" transformed into an M1 Procar
In Super Cars
It's a remarkably uncommon BMW M1 "AHG Studie," and you may not be familiar with these.
According to the German BMW dealer AHG, just ten were reportedly constructed
AHG owner Peter Gartemann wants to transform the homologated, street-legal BMW M1 supercar into a rolling memorial to one of the best support series ever developed after the Procar series ended its run in 1982 after backing Formula One for two years.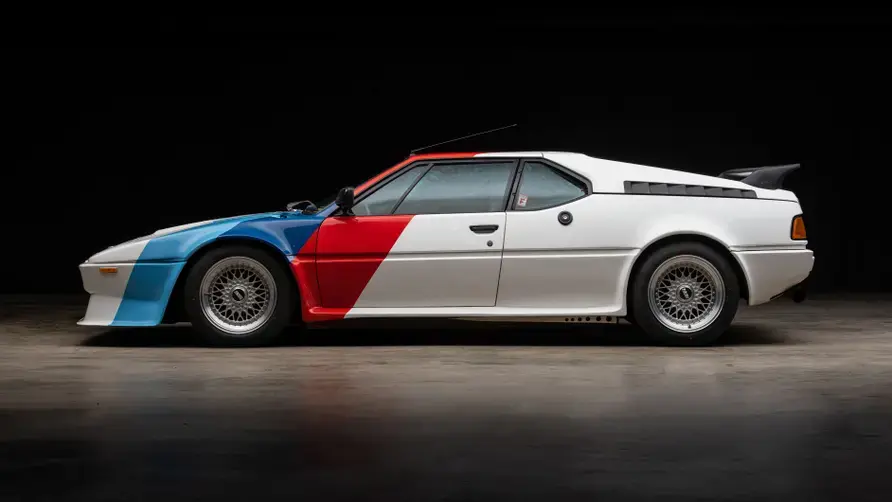 The enlarged bodywork, which includes front and rear spoilers, side skirts, and flared wheel arches with Procar inspiration, makes it obvious from the outside that these BMW M1s are not your typical models.
But these AHG Studies aren't show ponies; they have an adjustable race suspension, gorgeous 16-inch three-piece BBS alloy wheels, a new exhaust, a unique racing clutch, and a 350bhp power increase for the 3.5-liter six-cylinder engine.
Keep in mind that the production automobiles at the time had a little bit over 270 horsepower.
Also keep in mind that this is still a road car. Gartemann therefore requested bigger speakers and leather seat inserts in place of the cloth ones, though we're not sure why anyone would want to drown out the straight-six. Perhaps in the 1980s that was okay. Nevertheless, they even included a Blaupunkt (hat tip, Robocop, 1987).
Gartemann commissioned the "famous German paint studio of Hermann Altmiks" to imitate the legendary paint schemes of those racing cars as the livery went full-on Procar.
Each car's conversion reportedly cost a "astronomical" amount, in part because they were all TÜV-certified in Germany.
The base M1 shown here, according to BMW Classic, was created in 1979, and at some point, a previous owner made a significant investment to bring it up to this AHG standard.
It later spent time in the United States in Georgia, before passing through the hands of "famous collector" Don Davis and ending up in the California-based AE Collection of Paul Walker and Roger Rodas, which is "known for its rare Japanese and European sports vehicles."
It received some maintenance work in the middle of the previous decade, including a rebuilt water pump, an oil, coolant, and brake fluid change, battery and tie-rod repair, and repainted valve cover. Surprisingly, the odometer reads only 6,821 kilometres.
As a result, it has a quite high estimation. The auction house predicts it will sell for between $450k and $550k at this weekend's RM Sotheby's Miami sale. Given that you are well aware of it, there is no need to reiterate it here; yet, suffice it to say that this BMW M1 is among the best ever produced.