Meet the 708bhp C8 Chevy Corvette with a supercharger
Meet the 708bhp C8 Chevy Corvette with a supercharger
In Super Cars
The H700 package from Hennessey Performance is unveiled, "extinguishing" the Z06.
Hennessey Performance has unveiled the "H700" package for the mid-engined V8 Corvette
Hennessey increased the 6.2-liter's power to a dizzying 708 bhp and 638 lb ft, the latter of which is a notable improvement over the 465 lb ft of the "stock" car.
This has a lot of torque as well.
Hennessey installs a high-flow supercharger, an air induction system with an air-to-water intercooler, and the option of a stronger cat-back exhaust to release the extra power. Naturally, all of this is controlled by newly developed software that, according to Hennessey, surpasses the capabilities of Chevy's own Z06 'Vette (670 bhp/460 lb ft).
The C8 Corvette Stingray is an exceptional sports car out of the box, but according to boss John Hennessey, Chevy left some V8 performance on the table.
"The eight-speed dual-clutch transmission works flawlessly with our exciting 'H700' supercharger kit, and our exhaust upgrade sounds much more aggressive than standard."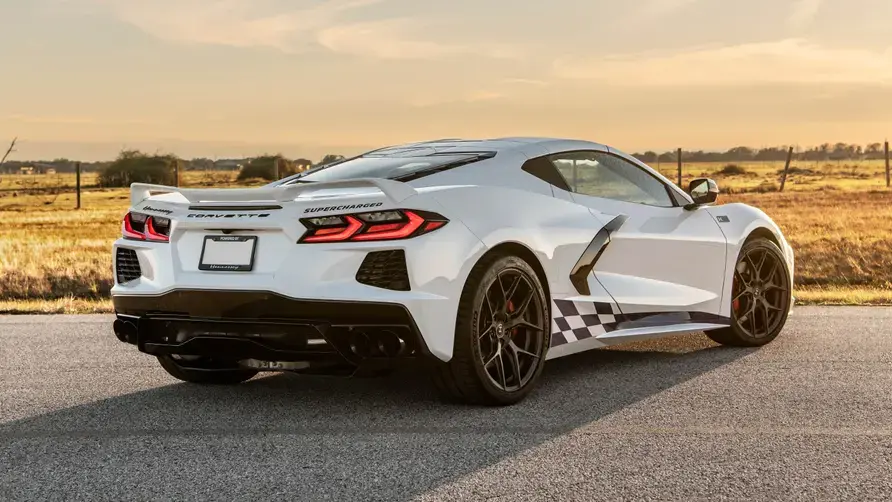 If you choose the complete package, the 'Vette will also receive lightweight alloys in a variety of finishes, graphics, and an upgraded engine for a price of $49,950.
Yet, it is a little less expensive at $34,950 if all you want is the supercharger and warranty.
Let us know your thoughts in the comments section.
Related Video:
Hennessey Supercharged 700-hp C8 Corvette Stingray // TRACK TESTING