This Porsche 911 GT3 is based on a Porsche 956 that won the 24 Hours of Le Mans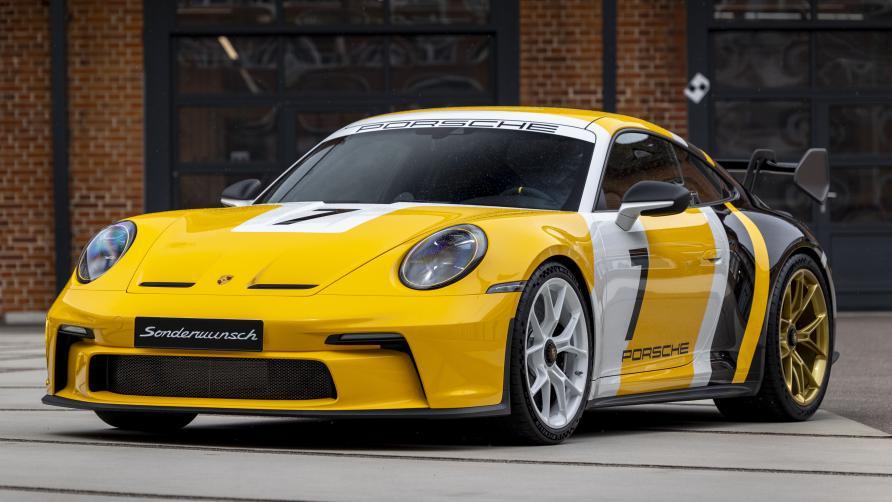 This Porsche 911 GT3 is based on a Porsche 956 that won the 24 Hours of Le Mans
Porsche's resurrected Sonderwunsch programme will give its wealthiest clients access to the next level of possibilities, including the ability to help create their own liveries and parts, or even a one-of-a-kind vehicle.
The first car to come out of said programme (which, naturally, translates to Special Request) is this 911 GT3 with a livery and a few extra bits inspired by Klaus Ludwig, Louis Krages (otherwise known as John Winter), and Paolo Barilla's New Man Joest Racing Porsche 956 that won the 1985 24 Hours of Le Mans.
Exceptionally cool.
This GT3 was also commissioned by Barilla.
Not only does it get a new livery, but it also gets new endplates for the rear wing that are said to be inspired by the original 956 and have gone through extensive wind lab testing.
Those white and gold wheels are also a favourite of ours.
The original number seven is still on the doors, and the gear shift now features an aluminium knob carved from a single block to resemble the 956's magnesium ball.
The concept took three years and went through three test paints, with Barilla intimately engaged from the start (he was even given his own ID card when he became an official Porsche employee).
Its sides are also branded with "PB 60."
That's because the modified GT3 was a present from Barilla to himself for his birthday.

What are your thoughts, folks?