Toyota revealed the Supra Sport Top at this year's SEMA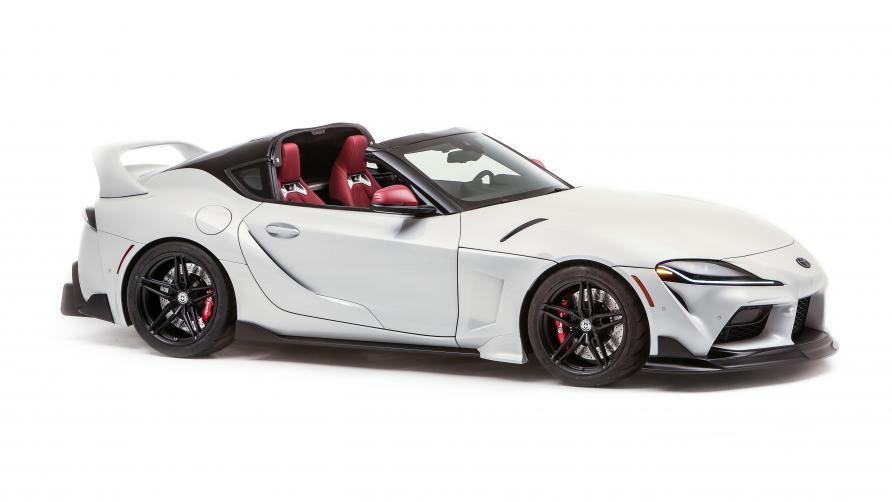 Toyota revealed the Supra Sport Top at this year's SEMA
It turns out that removing the roof of a new Toyota Supra to construct a MkIV-inspired targa isn't as simple as it seems.
Who'd have guessed?
Following an online unveiling in January, Toyota revealed the Supra Sport Top at this year's SEMA event, detailing some of the labour that went into making a car that pays homage to one of the most iconic Japanese sports cars of the 1990s.
"Cutting through the steel was a bit more difficult than we imagined," says KC Mathieu, owner of the Texas firm that conducted the operation.
"We started with an air saw and quickly went nowhere."
After 30 minutes, the crew had apparently barely cut through one inch of steel.
So they went back to the design board, dug out a New Better Tool, and voila, 'the roof began to yield.'
Toyota 3D-printed a pair of composite panels moulded to the Supra's lines while keeping the outside roof body structure forms after the roof was sliced (these in turn were reinforced).
The hand-built rear diffuser and underbody airflow on the Heritage Edition car (that's the red one, initially seen back in 2019), a new exhaust, and the MkIV's 'basket handle' rear wing have all been altered.
Both have similar performance enhancements, one of which is somewhat surprising.
Along with a new ECU, unique intake, and that exhaust, the turbo was upgraded to deliver 18% more airflow to the BMW-sourced straight-six.
As a result, power climbs from 340bhp to a very robust 500bhp.
To go with the performance modifications, there are larger brakes and adjustable coilovers, and the petition to have these as production models starts here.
Yes, we'll require a larger saw.
modified cars Modified Super Cars Supra