Hennessey has developed a huge 775bhp Ford F-150 that has been elevated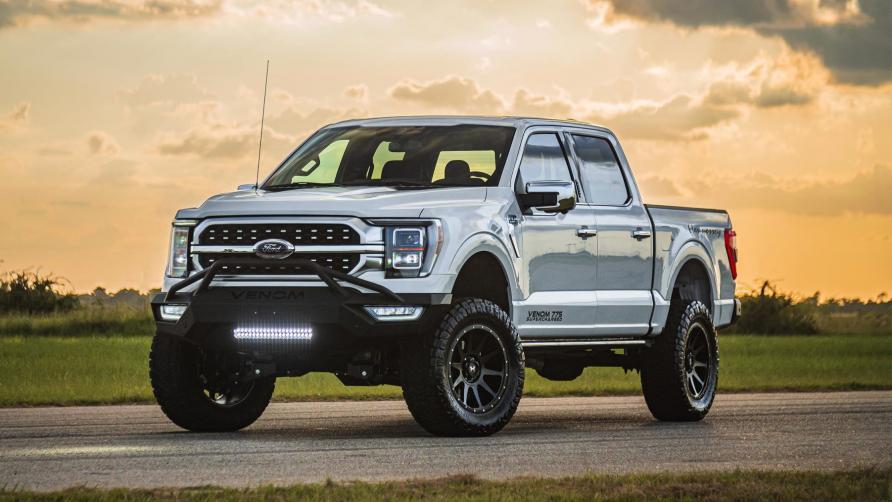 Hennessey has developed a huge 775bhp Ford F-150 that has been elevated
On 26/09/2021

at 19:37

In Trucks
Isn't it a big one? To our inexperienced truck eyes in the United Kingdom, the normal double-cab Ford F-150 already appears huge, but Hennessey has gone above and beyond. The new supercharged Hennessey Venom 775 F-150 is here.
Hennessey has fitted the F-150's 5.0-litre V8 with a massive 3.0-litre twin-screw supercharger (which makes a not insignificant 400bhp and 410lb ft of torque in its standard form).
The result is a whopping 775bhp and 685lb ft of torque, as well as a 3.9-second 0-60mph speed.
Thanks to a six-inch raise kit, 20-inch wheels, and massive 35-inch off-road tyres, it should be able to do so on just about any terrain.
There are also new front and rear bumpers, as well as the crucial lightbar.
There should be a lightbar on everything.
Only 100 Venom 775s will be produced, and Hennessey is quick to emphasise out that the F-150 can still be driven in RWD mode.
We're at a loss for words as to why...