Megarexx Megaraptor is a raptor version of the Ford F 250 Super Duty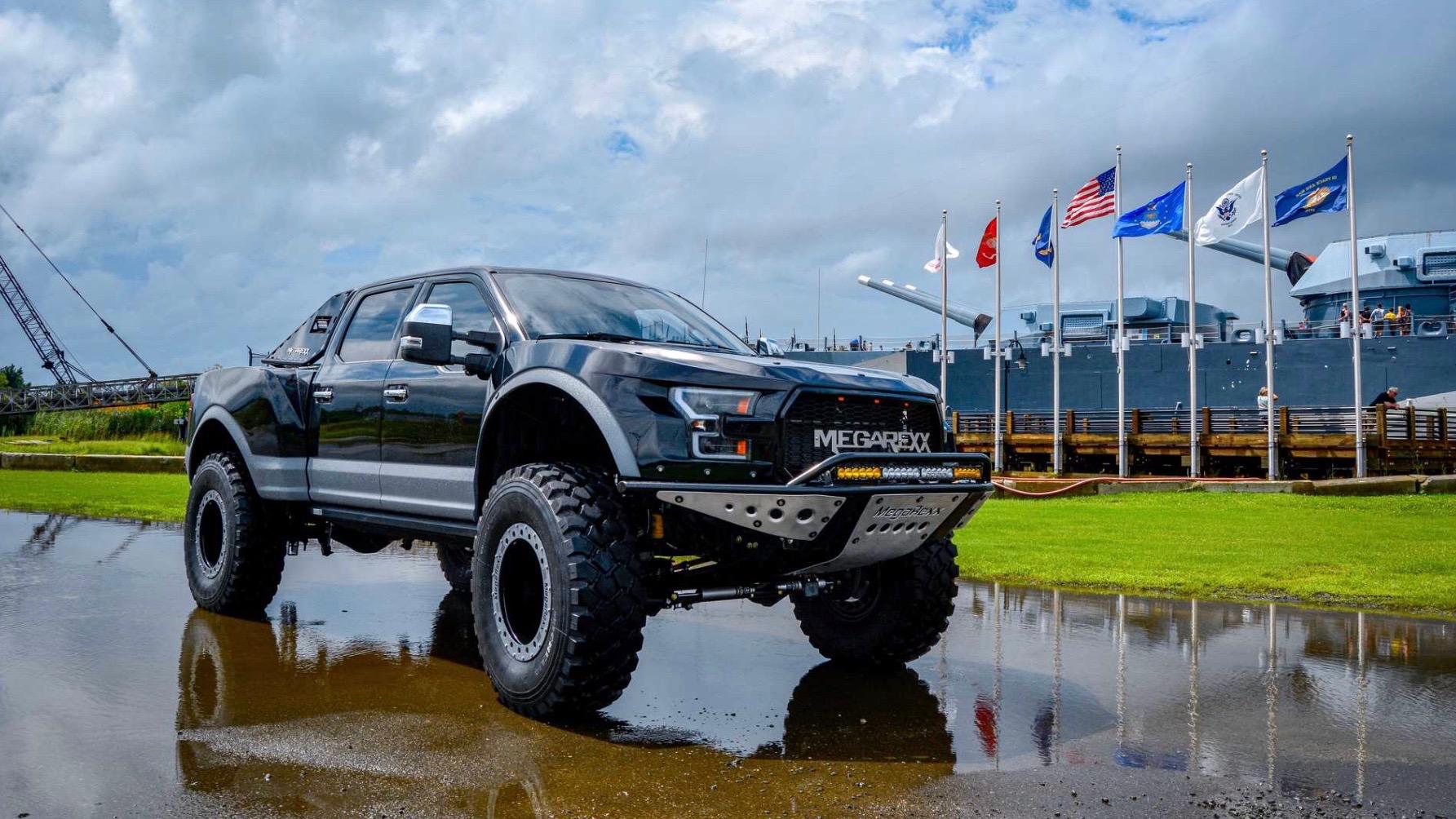 Megarexx Megaraptor is a raptor version of the Ford F 250 Super Duty
If a Tremor isn't enough off-road capability for you, MegaRexx in North Carolina can transform a Ford F-250 Super Duty into a super-sized Raptor.
The MegaRexx MegaRaptor takes the F-150 Raptor's headlamps and grille, but adds massive fibreglass fenders from a Baja 1000 pre-runner.
To fit bigger tyres below, MegaRexx increased the width of the fenders by 12-18 inches and moved the front axle forward by 1.5 inches.
The MegaRaptor is equipped with Michelin XZL tyres wrapped around MRAP (Mine Resistant Ambush Protected) military vehicle wheels.
The package also includes a 2.5-inch suspension lift and Bilstein shocks.
MegaRexx installed power-deployable running boards to guarantee that people could get in and out of this massive vehicle.
An air compressor, additional LED lighting, aftermarket front and rear bumpers, and a specific hitch to preserve towing capabilities are among the other upgrades.
MegaRexx will alter the F-350 or F-450 Super Duty, however this truck began off as an F-250 Super Duty Platinum.
The 6.7-liter Power Stroke turbodiesel V-8 is used in this construction, and it produces 475 horsepower and 1,050 pound-feet of torque.
A four-wheel-drive F-250 with a standard hitch can tow up to 20,000 pounds, according to Ford.
MegaRexx is now accepting $5,000 deposits to reserve a spot in line, followed by a 50% down payment to begin the build, which is expected to take 2-3 months.
Note that Defco Trucks of Denver utilised the MegaRaptor brand for an F-350 build in 2018, while Shelby American provides its own off-road-ready F-250 without the Raptor moniker.