Volkswagen has unveiled its prototype Jetta GLI
Volkswagen has unveiled its prototype Jetta GLI
In Concept Cars
The Jetta GLI Performance concept from Volkswagen is rather intriguing.
Volkswagen Jetta GLI
Because it honours the lengthy heritage of the Golf GTI sibling and is not another crossover or SUV.
In fact, VW's Californian design centre aimed to elevate the Jetta's performance to the level of a game show, where the broader your arch, the greater your score.
To that aim, this one adds over an inch of extra arch front and rear to a 2022 GLI 'Autobahn' model, replete with a six-speed manual for full museum piece.
Additionally, the arches have vents that are connected front and rear by broader, bigger side skirts.
The bodywork changes are completed by a more "muscular" rear and a reprofiled front that allows the upgraded 2.0-liter four-cylinder turbo to inhale more air.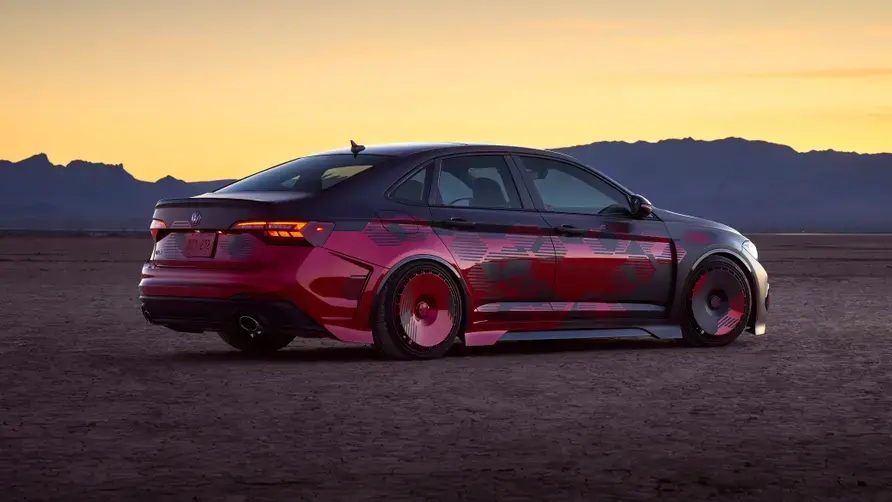 With the six-speeder and stronger clutch pack, power jumps quite a bit from the original GLI's 228bhp to a respectable 350bhp and 372lb ft of torque, which is sent to the front wheels.
Larger six-piston brakes, enormous carbon ceramic discs, coilover suspension, underbody bracing, and attractive Rotiform 20in Monoblock wheels with personalised aero covers are all present.
The inside fittings are finished with a stylish set of Recaros.
Senior design boss at VW Cali, stated, "The Jetta GLI concept was an opportunity for our team to draw from our passion for motorsports and develop a vision that is even more expressive and thrilling than the production car currently is.
Related Video:
VW Jetta GLI Performance Concept Revealed (SEMA 2022)