2,000bhp Ford Pro Electric Supervan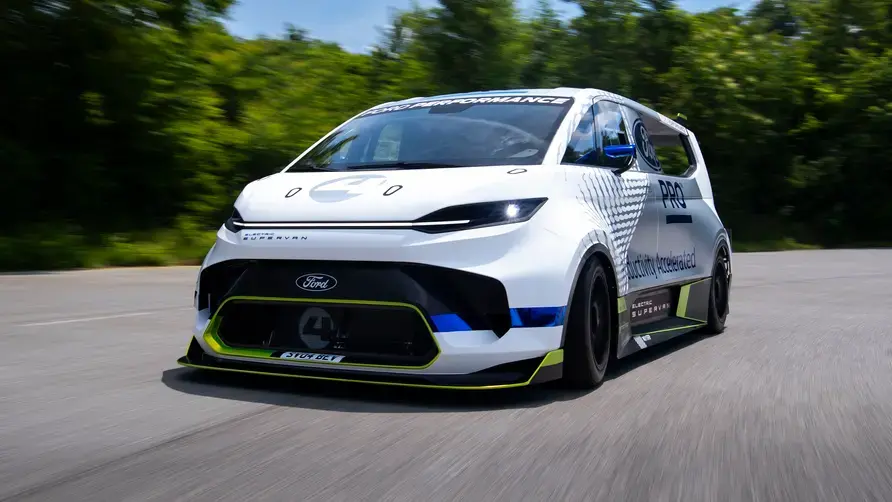 2,000bhp Ford Pro Electric Supervan
The new Supervan is this really insane machine. It's the fourth time in the past 50 years that Ford has gotten a little excited and chosen to equip a Transit with a powerplant that is so absurdly powerful.
It generates about 2,000 horsepower and 1,328 lb-ft of torque, and you got it—it is all electric.
Ford Pro Electric Supervan, in full
We'll continue to use Supervan 4.
Why release the fourth part now?
Perhaps you are familiar with the one-off Mach-E 1400 from 2020?
A 1400bhp electric SUV with insane drifting ability is intended to remind you that the Mach-E was on sale.
What better way to herd people into showrooms than the E-Transit, for which Ford has opened order books?
An E-Transit with bodywork that would make a Transformer cry and more than 10 times the power of the showroom model.
This project started with someone removing the floor pan and battery slot from an E-Transit Custom with an angle grinder.
A tubular space frame with custom front and rear subframes and a body made entirely of carbon fibre developed on top of it.
Two tonnes is the best estimate for the kerbweight.
A 50kWh, liquid-cooled lithium-ion pack that shares a battery slot with the donor vehicle strikes a balance between needed range and extraneous bulk, however the battery's capacity may always be increased in the future if the need arises.
They certainly don't lack for space, let's face it.
Total distance as it is now?
A full loop and a half of the Nürburgring, or around 35 kilometres at racing speed.
Alcon brakes, which include steel discs to perform in a broad range of conditions, double wishbone suspension, and a complete roll cage are all included.
Even a mounting place for a removable towbar with a capacity of 2,250 kg is there.
Video:
2000HP Ford Electric SuperVan
Four electric motors—two at the front and two at the back—are powered by the battery. Each axle has a differential and a gearbox.
This implies you gain flexibility at the expense of having limitless e-motor-per-wheel torque vectoring capabilities.
Want to save weight and don't need the whole 2,000bhp?
Simply unbolt one or more motors, then continue.
Like the Porsche Taycan, a vehicle with a single-speed transmission on the front axle and a two-speed transmission at the rear will accelerate quickly off the line (0-62 mph in less than two seconds), but will also have a peak speed of more than 200 mph.
Consider how quickly you could transport packages in this.
All we're asking, Amazon, is consider it.
Aerodynamically, anything with the frontal cross-sectional area of a bus stop is never going to be ideal, but Ford has dug far into its toolbox.
A slit vent in the nose feeds air into a large carbon-fibre tube that bisects the interior and exhales over the back number plate to avoid having to go over, around, or under the van.
The Ford GT-inspired air tunnels, which improve airflow around the back and look just stunning, are also there. A front splitter, side skirts, a roof-mounted wing, and a suspended rear diffuser serve to assist them.
Additionally, Ford promises 500 kg of downforce at 186 mph, so it's not only for bragging rights on the construction site.
Additionally, there is a hydraulic handbrake, which says a lot about Ford's intentions with The Van.
The goal is adaptability, so it can be configured for drag racing, hot laps, drifting, roasting tyres, or taking some rally punishment.
The beauty of electric motors is that there are virtually no restrictions on where the power may be directed.
Let us know your thoughts in the comments box below, Modified Rides.
Modified Ford Electric Electric Cars