The Hennessey Mammoth 1000 ram 1500 trx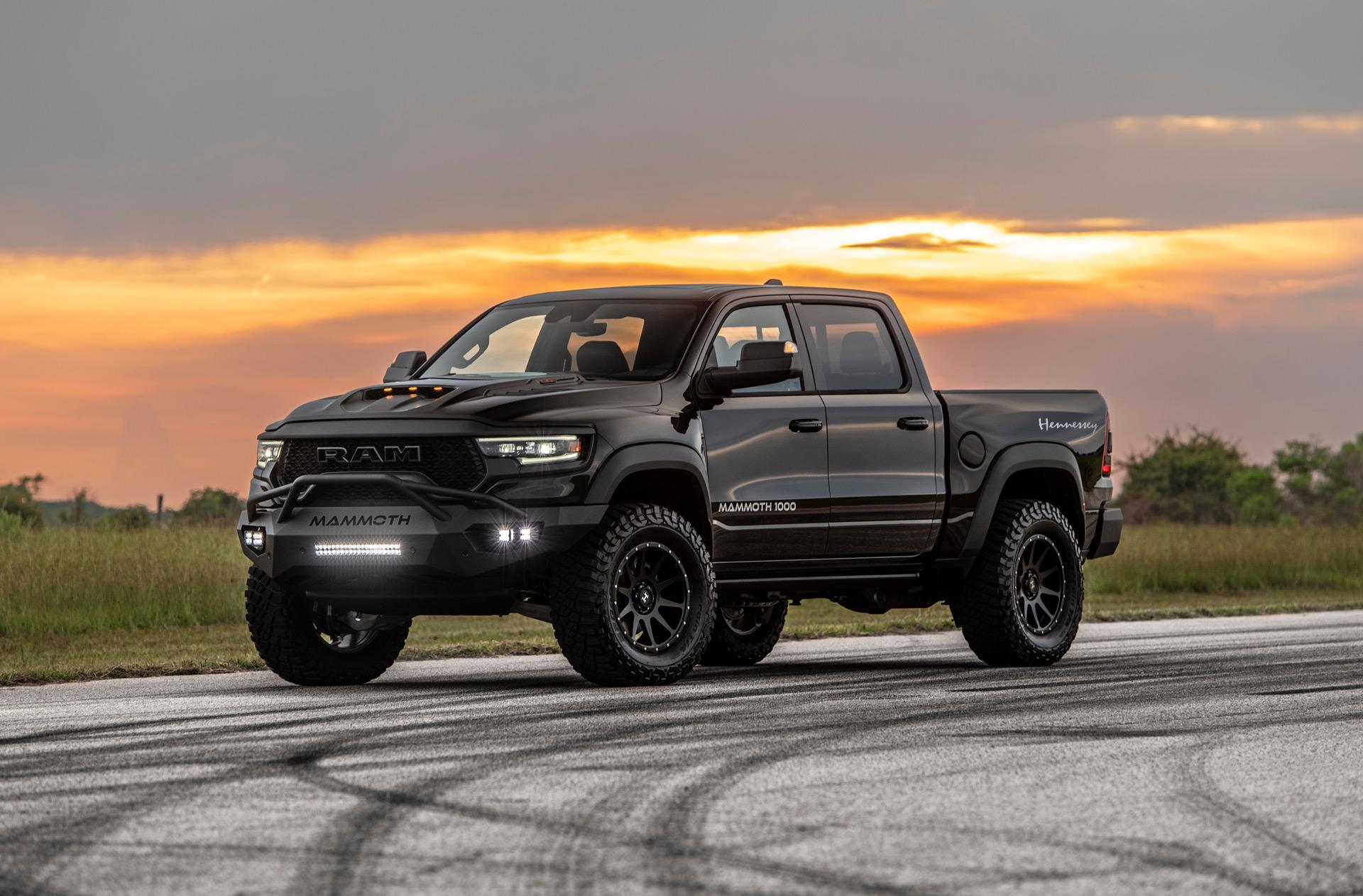 The Hennessey Mammoth 1000 ram 1500 trx
The 2021 Ram 1500 TRX is a truck with plenty of power, but that hasn't prevented the people at Hennessey Performance Engineering from cranking it up a notch.
The Hennessey Mammoth 1000 ram 1500 trx
Hennessey revealed a turnkey version of the super truck in January, with 1,012 horsepower and 969 pound-feet of torque, and the first 20 examples were shown on Wednesday at the company's facility in Sealy, Texas.

Hennessey expects its modified 1500 TRX, dubbed the Mammoth 1000 TRX, to reach 60 mph in 3.2 seconds from a standstill and pass the quarter-mile in 11.4 seconds at over 120 mph.
Remember, we're talking about a full-size, off-road-rated truck.
The standard 1500 TRX, on the other hand, has 702 horsepower and 650 pounds of torque and, according to Ram, will go from 0-60 mph in 4.5 seconds and do the quarter-mile in 12.9 seconds.
Sure, that's powerful, but Ford is said to be working on a new V-8-powered F-150 Raptor R for 2022, using the Mustang Shelby GT500's 760-hp supercharged V-8.
To put it another way, any 1500 TRX owner considering a trip to the drag strip should think about some of Hennessey's modifications.
A bespoke 2.65-liter supercharger for the Hellcat 6.2-liter V-8, as well as pulley modifications, a high-flow intake, stainless-steel headers, high-flow exhaust pipe (including the catalytic converter), and recalibrated engine management, are among the enhancements for the Mammoth 1000 TRX.
The 8-speed automatic transmission and four-wheel-drive system of the 1500 TRX are also included in the package.
Hennessey's Stage 1 off-road kit is also included in the basic package.
A unique front bumper with LED lighting, custom 20-inch wheels with 35-inch off-road tyres, a raise kit, and a front suspension levelling kit are among the additions.
A Stage 2 option is available for hardcore off-roaders, which includes all of the features of the Stage 1 package as well as 37-inch off-road tyres and electronic fold-out stairs.
Naturally, the car is put through its paces on the dyno to ensure that it delivers the stated power consistently and dependably.
The vehicle comes with a 2-year/24,000-mile limited warranty.
The Mammoth 1000 TRX has a starting price of $135,350, and Hennessey only expects to manufacture 200 of them by 2021.
Over half of the available construction spots have already been taken.
Hennessey or chosen Ram dealers can take orders.
Hennessey is also providing a third-row seat SUV conversion.
There are just 20 of these models available, with prices starting at $375,000 apiece.
The donor 1500 TRX costs $71,890, which is included in all pricing.