The Mansory F9XX Tempesta Celeste Has Over 1,085bhp
The Mansory F9XX Tempesta Celeste Has Over 1,085bhp
In Super Cars
An iteration of the Ferrari SF90 Spider with more than 1,000 horsepower, it shows that Mansory is still the same.
Only three of the F9XX Tempesta Celeste will ever be built
We're told that each one will feature a completely bespoke spec, and the 4.0-litre twin-turbo V8 has been fettled so that – when paired with the SF90's three electric motors – total output is 1,085bhp and 723lb ft of torque.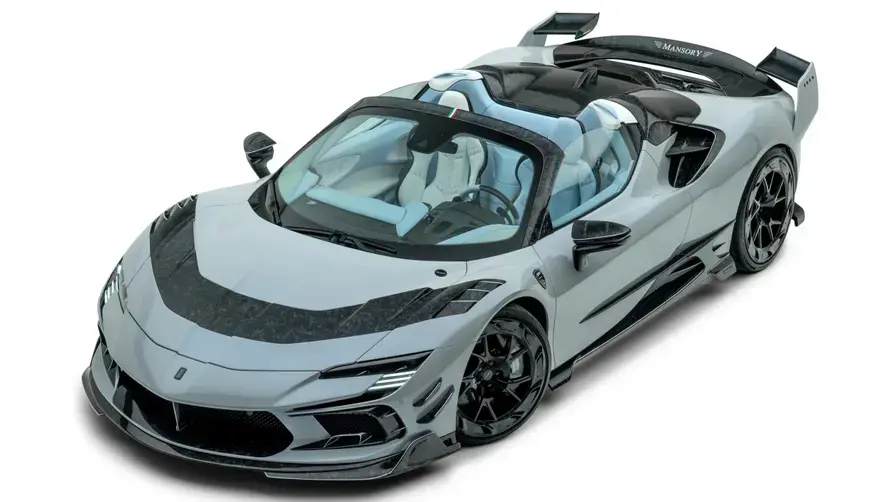 It will reach a high speed of nearly 220 mph despite having a retractable roof, and the sprint from 0 to 62 mph only takes 2.4 seconds.
That is tenths faster than average.
Wings, flicks, spoilers, diffusers, and a tonne more forged carbon fibre are used in the "styling," which Mansory adhered to every available panel.
The wheels are lightweight forged pieces with a 21-inch front wheel and a 22-inch rear wheel.
The inside has been reupholstered with leather and Mansory has also installed its own oddly shaped steering wheel.
Video
1100HP F9XX Tempesta Celeste based on Ferrari SF90 Spider by Mansory