These custom-painted Chirons have been presented by Bugatti Sur Mesure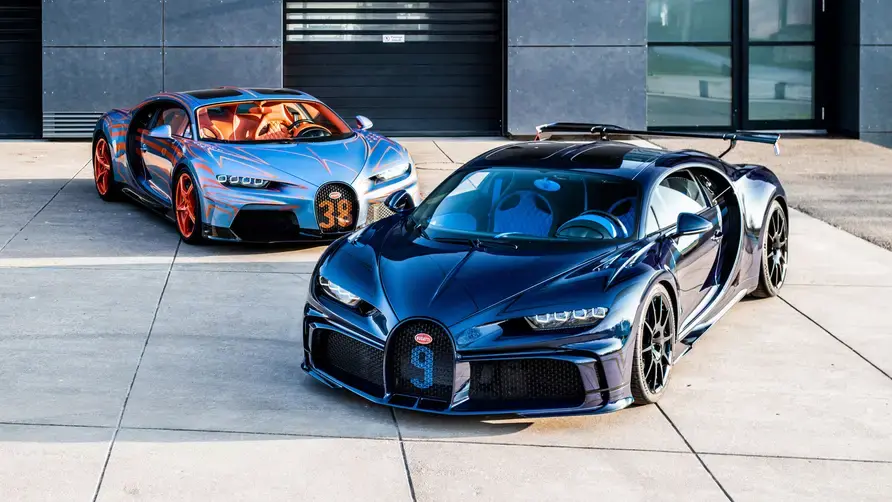 These custom-painted Chirons have been presented by Bugatti Sur Mesure
Remember when Bugatti announced the establishment of an unique customising section right before Christmas?
The Chirons you see here were among the first to receive the Sur Mesure therapy.
Let's start with the Chiron Super Sport, which receives a 'Vagues de Lumiére' paint job in California Blue with 'Aancia Mira' (read 'orange') decals lavishly applied.
The magnesium wheels and engine bay lettering have the same finish, and the owner requested that the number 38 be added to the grille.
Meanwhile, the Chiron Pur Sport has an exposed Blue Carbon body with Nocturne stripes, a French Tricolor on the rear wing endplates, and plenty of French Racing Blue both inside and out.
Both cars took a total of five weeks to complete, with each coat of paint (and there are a lot) meticulously done by hand with'millimetre-perfection.'
After that, plenty of clearcoat is applied to ensure that the artistry endures the weather.
"The 'Vagues de Lumiére' painting applied to these two specimens of our super sports vehicles represents Bugatti's essential values of workmanship, innovation, and legacy," stated Christophe Piochon, Bugatti's president.
"I'm very looking forward to seeing what our customers and the Sur Mesure team come up with in the next years."
The issue is, with the evidence in front of you, are you excited?
Please leave your comments in the normal spot.
Video:
BUGATTI Sur Mesure: Introducing the CHIRON Pur Sport 'Grand Prix'