Lunaz builds an electric Range Rover convertible
Lunaz builds an electric Range Rover convertible
The original Range Rover is transformed by the electric magicians at Lunaz into a drop-top that we can't stop talking about.
Range Rover is transformed by the electric magicians at Lunaz
Lunaz only recently stated that it would be focusing on vintage Range Rovers.
But we have the impression that what we're seeing isn't just a pair of magnificent Rangers; it's also perhaps what Lunaz will be remembered for going forward.

We don't make this judgement lightly however; electrifying Range Rovers is obviously profitable for Lunaz, which has added 250 employees to meet the demand for Rovers that are clean-running and, strangely enough, actually function.
Nowadays, it appears to account for 45% of the workload at the Silverstone plant, which is easily understood when you see the finished item.
The revamped Rangies from Lunaz come in two different configurations: Town, which focuses on interior comforts, and Country, which reportedly offers "better-than-new off-roading capability."
Nevertheless, customers almost always choose the Town configuration, which is understandable given how most owners utilise even brand-new Range Rovers.
Everything is modified for each buyer.
Some examples of this include "incorporating old apparel into the vehicle's fabric palette," adding SpaceX's Starlink satellite internet system, or employing switches and seat covers made from recovered ocean plastic.
Another client reportedly requested "an NFT casting screen," which is supposedly a green product after Ethereum blockchain's energy consumption was decreased by 99.95% in something known as "The Merge."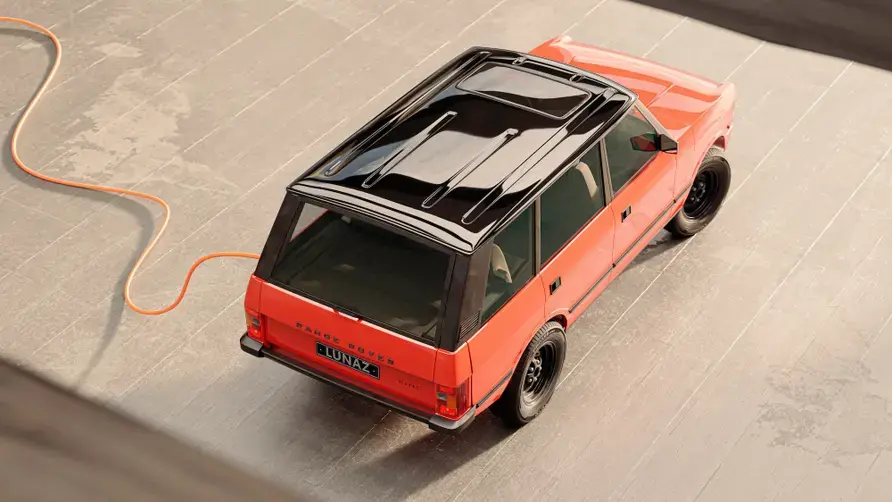 The restoration procedure is something with which we are much more familiar.
Each Range Rover is taken down to its bare metal, reinforced with box-section steel, and given an all-wheel-drive, all-electric drivetrain with 360 bhp and 450 lb-ft of torque.
That is also dependent on customer selection.

Given the additional power available, it's not surprising that Lunaz completely disassembles the old suspension—down to the bushes and linkages—before installing adjustable long-travel coilovers.
The brakes have also been improved, with six-pot callipers up front and four-pots in the back helping with regenerative braking from the motors.
From there, it's really up to the buyer: the LWB you see here is woven of leather, wool, and walnut for a traditional, timeless appearance.
Even though it appears to be quite simple, it manages to contain a 1,300-watt radio, wireless charging, a watch winder, and various heating and cooling mechanisms for drinks.
The centre console might be like Hermione's beaded bag because it can fit everything, but we'll have to update you when we learn more.

We would have lusted after the LWB hard-top if we had only seen it.
All bets are now off because Lunaz is also constructing an Octopussy-spec drop-top.
It's one of only a few vehicles with features like weatherproofed walnut flooring, a floating dash, Land Rover Series-spec bench seats, and a baby blue colour scheme.
Given the lack of a roof, other rather important pillars, etc., there is a lot more bracing than you might anticipate to keep the structure from collapsing like a stack of cards.
We assume that this is accomplished by using a lot of steel and more triangles than an Illuminati holiday party.

Speaking of, it might be a good idea to practise your secret handshake now that Range Rovers refurbished by Lunaz start at $245,000 each.
And it is prior to taxes.
Whatever the case, that kind of money still seems completely justified; if you merely include in the 30,000 hours that a typical conversion requires, that equates to spending less than £8.50 per hour.
Additionally, a full electric Range Rover is thrown your way.
Let us know your thoughts in the comments section.
Related Video:
RANGE ROVER CONVERTIBLE BY LUNAZ 2022