The Mammoth 1000 6x6 TRX from Hennessey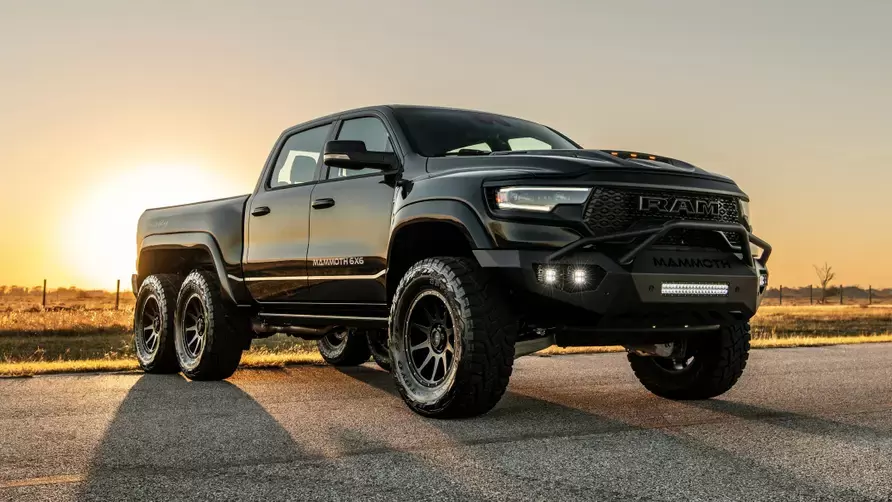 The Mammoth 1000 6x6 TRX from Hennessey
On 19/04/2022

at 20:48

In Trucks
The Hennessey Mammoth 1000 6x6 TRX was first unveiled in 2020 and is now fully in production. That implies we must all give our unconditional submission and accept it as our new dictator.
Is there any purpose in battling it?
The 6.2-litre V8 Hellcat engine in the Dodge RAM TRX pick-up on which it's based produces 702bhp and 650lb ft of torque.
Hennessey has boosted those values to 1,012bhp and 969lb ft with the addition of a 2.65-litre supercharger, high-flow fuel injectors, and an induction system.
That's the same amount of power as the Mammoth 1000 TRX, a four-wheel-only vehicle capable of 0-60 mph in 3.2 seconds and a quarter-mile sprint in 11.4 seconds.
The installation of an additional axle to accommodate wheels five and six lengthens the load bed by four feet, increasing the overall length of the 6x6 to 7.19 metres.
For those who prefer imperial measurements, that's about under 24 feet.
"Everything we do at Hennessey Performance is dialled up to 11, but the Mammoth 1000 6x6 is definitely tuned up to 12!" remarked business founder and CEO John Hennessey.
Everything on the Mammoth 6x6 is larger, badder, and more intimidating – yet it's still super-fast while still being a true off-road beast.
It is without a doubt the king of the highway."
We have no objections.
The Mammoth 1000 6x6 receives a'mountain off-road package,' which includes Bilstein suspension, locking rear axles, and 37-inch tyres on 20-inch wheels.
There's also a customised interior, which is to be expected given that prices start at $449,950 (about £345k).
At the very least, the cost of the basic RAM is included.
Video: The Mammoth 1000 6x6 TRX from Hennessey
Hellephant-Swapped 6x6 RAM TRX // HELLEPHANT MADNESS Episode 5!
Modified modified cars Trucks Hennessey Mammoth